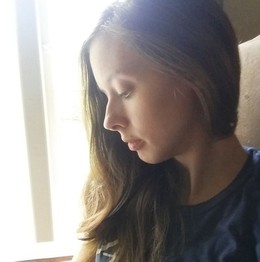 About Brittany Rudd
Brittany Rudd graduated from Kalamazoo Valley Community College with an Associates in Applied Sciences majoring in art and new media in December 2013. Since then, she has sought out other artistic endeavors such as classes at the Kirk Newman school, an art show at the Les Cheneaux Antique Boat Show and Arts Festival, and ArtPrize 7 in 2015. Brittany is currently pursuing her Bachelor's Degree in Fine Art with an emphasis in painting at the Frostic School of Art at Western Michigan University as well as showcasing a series of works at ArtPrize 10 later this year.
The work she is most proud of is "Wild and Free", a 5' x 8' acrylic painting she completed in 2015 and showcased at ArtPrize later that year. Other pieces she's proud of are the white charcoal on black paper works she will be showcasing at ArtPrize 10 this fall. Brittany is proud of these works of art because they represent simplistic beauty and she was able to pour her entire self into creating them. Most of her work is focused primarily on nature and wildlife, from animal portraiture to a style breaking out of that mold to portray movement and reaction.
Brittany's creative goals include learning more about the drawing and painting processes as well as expanding her horizons to experiment in other mediums such as sculpting or ceramics. She enjoys acrylics, water color painting and white charcoal drawing. Her long-term goal is to find a career as a fine artist, an illustrator or a museum/gallery curator.
Artists that Brittany admires include Alfonse Mocha and, more recently, Jon Van Zyle. Mucha demonstrated a detailed illustrative quality in his paintings, with a distinct outline and warmer colors. Van Zyle's artistic approach is more painterly with a looseness that captures movement as well as a more realistic approach to one man's everyday life. Brittany appreciates the techniques and works of both of these men.